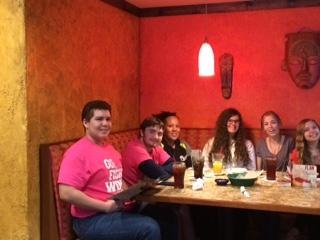 Ms. Nall
478-929-7877 ext. 51583
WRHS Spanish Club 2018-2019

To be eligible to earn a $100 VISA gift card at the end of the school year, you must do AT A MINIMUM the following:

1. Be a member in good standing of the club. All dues must be paid.
2. Attend at least 3 meetings.
3. Participate in the fund raiser, which has yet to be determined, and sell at least $25 of merchandise.
4. Participate in at least one of the service projects:

-Bring in at least 6 cans of any of the following to be donated to a local church's food bank.They donate the food to the needy. (Week of Oct. 23rd-Oct. 27th)

-Green beans, baked beans, black beans, tuna, chicken, turnips, squash, spinach, fruits. Please do not bring fresh food but canned food.

-Bring in a bag of brand new and sealed dog food to be donated to the local humane society. (Week of March 5th–March 9th)

-Any other service projects that may be determined at a later date in the school year.

If there is more than one person who meets all the criteria, I will look at each individual's record.
1. How many meetings did you attend over the required 3?
2. How much, if any, merchandise did you sell over the required $25 amount?
3. Did you participate in more than one of the service projects? How many bags of dog food did you bring in over the required amount? Did you bring in more than the required amount of cans of food for the food bank?


In the event of a tie after the looking at this information will result in a drawing to see who will receive the gift card. Good luck!