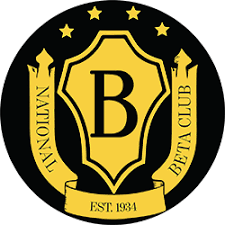 We are a National BETA School of Merit!
"Let Us Lead by Serving Others"

We meet every Tuesday morning at 7:25 in the Auditorium.

The Beta Club Motto is "Let Us Lead by Serving Others". The purpose of this organization shall be to promote the ideals of academic achievement, character, service and leadership among elementary and secondary school students.
Membership Requirements: 90 GPA or higher and participation in the club by earning 50 volunteer points each semester. (Seniors may earn 25 spring semester)
Members are encouraged to keep updated on our current events by attending meetings and checking Google Classroom.
If you belong to an organization that would like our club members to volunteer at an event, contact Ms. Crystal Martin through email. Please give us at least 4 weeks notice in advance of your event date. We are a very busy club and need time to disperse the information to our members and time for them to check their busy schedules, ask permission from their parents, and sign up to volunteer.

Visit the National Beta Club website! The National Beta Club